Product Details: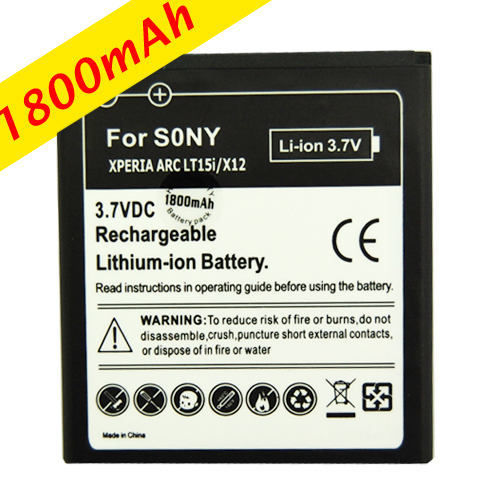 100% Brand new high-quality!
This replacement battery has an integrated microchip, that prevents overcharging and lengthens battery life.
Best replacement for the original battery with comparable standby and talk time.
Great bargain with excellent quality guaranteed.
Voltage: 3.7V
Capacity: 1800mAh
Cell type: Lithium Ion
Note:The battery operation time depends on conditions such as: Transmitting power level Signal (distance
between the phone and the base station) Network parameters defined by the operator .
Package Includes:
1 x 1800mAh Brand new Battery
Write a Review:
Tell us what you think about this item, share your opinion with other people. Please make sure that your review focus on this item. All the reviews are moderated and will be reviewed within two business days. Inappropriate reviews will not be posted.
Have any question or inquire for this item? Please contact Customer Service. (Our customer representative will get back shortly.)
Search Feedback
Did you find what you were looking for?
If you need help or have other feedback for Customer Service. Click here
Recently Sold items
Newsletter

I do not like someone track my whereabouts, I can not use a
GPS jammer
? They look very good use.
Cellphone jammer
in Europe and the United States has a large number of potential customers, they tired of some public occasions phone clamor, you want a quiet life.
China has many OEM factory production of
mobile phone jammer
, but they do not accept non-authorized unit orders.
Teachers in the school have the right to use
Signal Jammer
, so we can not use the phone when the class, this is too make people mad.
Most
Gps Blocker
in use in the prevention, prevention case tracking. Some units have a confidentiality agreement in order to use such devices.
Different flavors of
e cig liquid
smoke for different tastes of lovers need
e cig batteries
are generally divided into two kinds, one is manual battery, one is the automatic battery.
Gps Blocker
completely blocked the GPS in a range of chase. Chase kinds of technology used in the confirmation of the location of the device
Company Info
Customer Service
Security & Privacy
Other Business